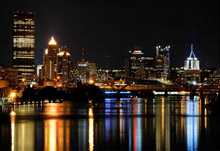 Located at the confluence of three sparkling rivers and banked on all sides by green hills, Pittsburgh is a beautiful renaissance city awaiting your discovery. In fact, the city view from Pittsburgh's Mount Washington ranks second on USA Weekend Magazine's list of the 10 most beautiful places in America.
Pittsburgh has earned its reputation as one of America's "most livable" cities. Long a center for the production of steel, iron, glass, Pittsburgh's economy is now driven by technology, medicine, finance and tourism.
Pittsburgh offers big city amenities and boundless hospitality in an atmosphere that is small-town friendly. Travelers arrive at Pittsburgh International Airport, voted Best U.S Airport by Conde Nast Traveler. Pittsburgh International Airport is home to the Airmall, a unique selection of shops and restaurants all at guaranteed street-level pricing.
Head downtown through the Fort Pitt Tunnel and you emerge to a spectacular view of three rivers and a city skyline spiked with architectural masterpieces.
Pittsburgh's downtown restaurants, theaters and shops are easily accessed on foot or an underground rail system that is free within the city. Off shore, visitors can experience the breathtaking skyline from a Gateway Clipper riverboat or take an incline ride to Mount Washington, where a variety of fine dining experiences await.
Downtown, five Cultural District theaters offer performances by the world-class Pittsburgh Symphony Orchestra, Pittsburgh Ballet Theater, Broadway Series and Pittsburgh Opera. Two department stores and a variety of specialty stores are within easy walking distance of downtown hotels, and there is no sales tax on clothing, shoes or necessities in Pennsylvania.
The David L. Lawrence Convention Center, on the Allegheny River in the downtown business and cultural district, is the first "green" building of its kind and the largest certified green building in the world. The facility provides 314,000 square feet of exhibition space and 51 meeting rooms.
In the nearby Strip District, the clubs are hot, the food is spicy and dance floors pulse to the sounds of rock, blues, jazz and swing. At the Senator John Heinz Pittsburgh Regional History Center, 350 years of Pittsburgh history come alive through the stories of the people who settled here.
At Station Square, a restored 19th-century railroad station, restaurants, nightclubs and shops make up one of the city's most popular tourist destinations.
On Pittsburgh's North Shore find PNC Park, the home of the Pittsburgh Pirates, and Heinz Field, home to the Pittsburgh Steelers and the University of Pittsburgh Panthers. Nearby, experience the work of Pittsburgh native Andy Warhol at The Andy Warhol Museum. Other attractions include the National Aviary, Carnegie Science Center/SportsWorks, Mattress Factory, a museum of contemporary art and the Children's Museum of Pittsburgh. The city's jazz legacy is preserved at Manchester Craftsmen's Guild on the North Shore and clubs throughout the area.
Located 10 minutes from downtown, Oakland affords a range of experiences. Enjoy one of the world's finest dinosaur exhibits at the Carnegie Museum of Natural History or visit an outstanding collection of Impressionist and Post Impressionist works at the Carnegie Museum of Art. The sensual delights of flowers and butterflies at Phipps Conservatory and Botanical Gardens await, while the Frick Art & Historical Center offers Victorian life at the turn of the century.
See for yourself how cool Pittsburgh is:
Information courtesy Pittsburgh Convention and Visitors Bureau.